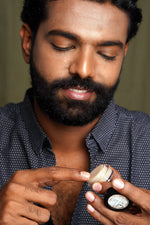 Dear Men, It's Time To Advocate Skincare! 
Pampering skin is not restricted to any particular gender. As far as you are a human being, you need to give adequate protection and care to that sensitive skin of yours. Personalized skin care may enable you to maintain the balance of your skin. Men are no exception when it comes to skincare, as both men and women share identical problems with pimples, harsh temperature effects, and irritating fabrics.
Besides strong hair growth, an increase in testosterone hormones can result in thicker skin and a rougher texture. Studies insinuate that the presence of more collagen and elastin make male skin 20% thicker than female skin. It can improve the firmness of your skin and cause stagnant indications of ageing than women's skin. Furthermore, if you shave every day using rough razors, then it's high time to include a skincare routine in your schedule. Here, let us take a glance into why and how men's skincare is essential despite genders.
What Skin Type Are You?
To start personal beauty care at first, you need to know your skin type. People are born with various skin types like oily, dry, combination, or sensitive skin. These skin types can alter with ageing, but it is genetic, so you need to formulate a suitable beauty treatment for your skin. You can quickly identify your skin using these tips,
Oily skin- enlarged pores, oily t-zone, shinny
Dry skin- invisible pores, visible lines, rough and less elasticity
Combination- larger pores, blackheads, and shiny
Sensitive- itching, burning, redness, dryness. 
Clean to get a clear skin 
Using a bar of soap on your face can make it severely dry. It removes ingrained moist of your skin, as it indiscriminately washes away vital natural oils along with dirt. Moreover, soaps are high in pH. It can give you inflammation, peel skin, and even lose its elasticity. You can cleanse your face at least once a day using a customized cleanser to prevent breakouts. Remember, men have different skin textures comparable to women's skin, so be mindful in choosing your face wash. 
Hoist Your Moisturizer
 Using a moisturizer regularly can lock moisture within and replenish your skin. Men extensively use razors on their faces, so it is highly recommended to stay hydrated to rejuvenate and nourish your skin. After exfoliating the skin's dead layer by using a daily scrub, you can apply a night lotion to revive your skin. Moisturizing creams are created to give you adequate hydration that will benefit you even in the long-run by reducing wrinkles. 
Create A Canopy Using Sunscreen
If you overexpose your skin to the sun, you can get sunburn quickly from the UVA and UVB rays that cause premature ageing and inflammation. 
Include sunscreen in your regime to stay young and healthy. Application of SPF can protect you from UV rays and thereby prevent skin cancer. 
Why is Ayurveda the best?
The best traditional formula to reboot your skin is Ayurvedic treatments. Incorporating this ancient wisdom into your daily routine is a holistic approach to soothe your skin. 91 Ayurveda provides essentially affordable lip balms and herbal oils to reestablish the lost balance and revitalize your damaged skin. 
56% of men believe that skincare is essentially feminine and is not a requirement for their gender. It is time to embrace your skin and feel comfortable with maintaining what you already have. Just like your hair, keeping your skin fresh and hydrated makes you more desirable and handsome.